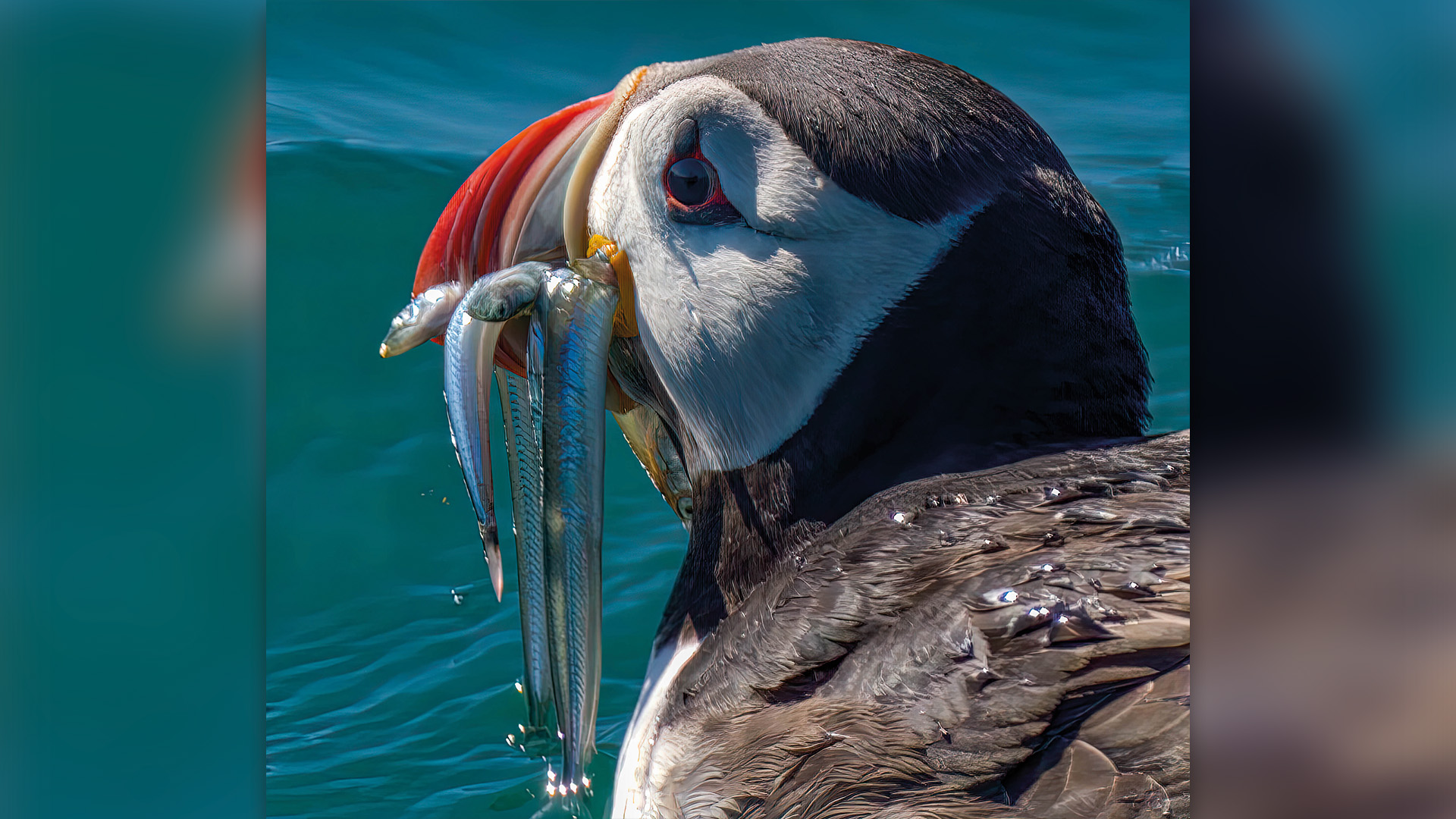 Guernsey Arts 2023 Bailiwick Wildlife Photography People's Choice Award
The votes are in! Guernsey Arts are delighted to announce that the People Choice's Award for the 2023 Bailiwick Wildlife Photography Open is Antonia Bradley, thanks to her eye-catching photograph of a Puffin. Taken on local boat charter Out The Blue, the announcement of Antonia's prize winning puffin entry coincided with Puffin season! Puffins arrive on Island in April for breeding season and migrate in August, spending most of their lives out at sea.
About the Exhibition
Local wildlife photographers were asked to submit their most dynamic images of Bailiwick wildlife, which were displayed in a vibrant community exhibition earlier this year from 27 January to 26 March. Over 200 individual photos were submitted across the categories of Bird, Marine, Insect, Mammal, In Your Garden, including a number of photos by those aged 16 and under. The Judge's Choice award for each category, selected by Guest Judge Sue Daly, were as follows :
Bird - Christopher Wilkinson
Marine - Tim Harvey
Insect - Andy Marquis
Mammal - Julie Day
In Your Garden - Barry Wells
16 And Under - Julien Bougourd
The People's Choice award was voted for by the public throughout the duration of the
exhibition. This was awarded to Antonia Bradley, who was presented with a copy of Sue Daly's Wild Sark book, as well as a sustainable smartphone Fairphone 4, kindly gifted by the JT Community Team.
Within the exhibition, Guernsey Arts also featured the work of award winning wildlife
photographer, filmmaker and guest judge, Sue Daly. Sue's work captures the extraordinary marine life and breathtaking landscapes of her home island of Sark.
Russ Fossey, Head of Arts Development said "The exhibition was extremely popular and showcases the extraordinary wildlife living within the Bailiwick. Thank you so much to all who participated. Guernsey Arts have already been contacted by Islanders wishing to submit entries for the next show! Entries for 2024's edition will open in September this year - we would love to hear from any organisations who would like to be involved with the 2024 exhibition"
Guernsey Arts is a not for profit organisation which directly supports Island Artists and Bailiwick Arts Organisations with funding support and insight. The overarching aim of Guernsey Arts is to help the Bailiwick of Guernsey to be the most vibrant artistic community it can be, across all aspects of the arts. From photography and film to live music and theatre; from sculpture and visual arts to poetry and literary works, if it's an art form, our team is on hand to guide, advise and help Island projects to reach their full potential.
Visit the greenhouse gallery
There's always something happening in the greenhouse gallery - Equilibrium by Estelle Moseley is on show at Guernsey Museums at Candie from 30th March - 21st May from 9am - 5pm.