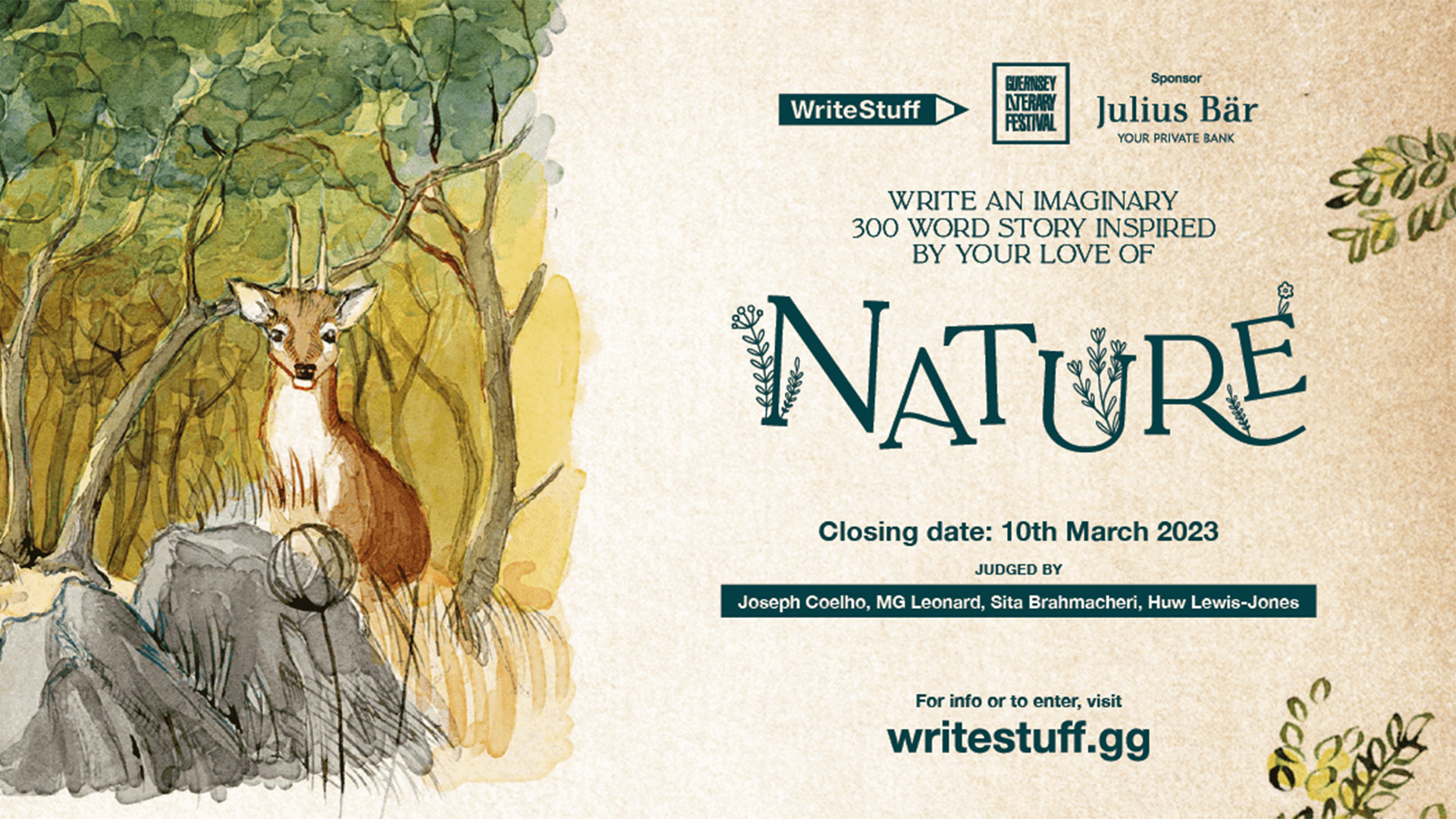 Young writers with a passion for nature
Young writers in the Bailiwick are being given the chance to use their imaginations to write a 300-word story inspired by their love for nature in this year's WriteStuff competition.
The popular WriteStuff competition, which is open to local pupils in the Bailiwick of
Guernsey, is launched by the Guernsey Literary Festival on Monday 9 January. The closing date for entries is Friday 10 March.
The judges for the competition, which last year attracted a record 779 entries, are four fantastic writers, M G Leonard, Children's Laureate Joseph Coelho, Sita Brahmachari and Huw Lewis-Jones.
The challenge for young writers is to produce a 300-word story which inspires and
reconnects the reader with love for Nature. Pieces will be judged on creativity, clarity, style and accuracy of language as well as an explicit link to Nature. The aim of the WriteStuff Competition is to develop writing skills and further digital literacy.
There are four classes, Primary (years 3-6), Intermediate (years 7-9) and Senior (years 10+), and a class for special educational needs (SEND). The competition is sponsored by Julius Baer and promoted by Guernsey Literary Festival partners including Betley Whitehorne Image, the Guille-Allès Library, Guernsey Arts and Island Families.
M. G. Leonard (Primary judge) is the bestselling writer of children's books such as Beetle Boy, the Adventures on Trains series and The Twitchers books. Her books have been translated into over forty languages and Beetle Boy is currently in development as a live-action series for TV.
Waterstones Children's Laureate Joseph Coelho (Intermediate judge) is an award-winning performance poet, playwright and children's author based in Kent. His debut poetry collection Werewolf Club Rules (Frances Lincoln, 2014) was the winner of the CLPE CLiPPA Poetry Award 2015. His work has poetry and performance at its heart, drawing on over 20 years' experience running dynamic creative literacy sessions in schools. Coelho writes for children of all ages; his picture books include the critically acclaimed Luna Loves… series and If All the World Were . . .which won the Independent Bookshop Week Book Award.
Sita Brahmachari (Senior judge) grew up in the Lake District, a landscape that inspired a lifelong love of nature. Sita's father was from India where she and her family visited as a child. She never dreamed that she would one day become a writer of plays, short stories, animation, and novels for young people. Since she won the Waterstones Book Award with her first novel Artichoke Hearts (2011) Sita has written many bestselling, Carnegie and UKLA nominated novels. Her story Tender Earth (2017) was honoured by The International Board of Books for Young People and Amnesty International.
Huw Lewis-Jones (SEND judge), who went to school in Guernsey, is the author of many books including the bestselling The Writer's Map and Swallowed by a Whale: How to Survive the Writing Life, which included secrets and insights into the writing lives of sixty accomplished authors. He is a professor of Environment and Culture at Falmouth University as well as Expedition Leader of voyages to the North Pole. He now creates books for children too, with his Bad Apple and Blue Badger series, and there's more to come this year. Huw is a Guest Curator of the Guernsey Literary Festival.
Filter judges this year include Julia Bichard and Adam Bayfield from the Guille-Alles Library, local writer Nick Le Messurier and Catriona Stares, the founder of the Guernsey Literary Festival.
The WriteStuff winners will be announced in May and the prizes will be given out at the Competition Awards Ceremony on Saturday 13 May 2023– as part of the 2023 Guernsey Literary Festival.
Karen Martin of sponsors Julius Baer Guernsey, says, "The protection of the natural world is one of the fundamental issues of our time and getting young people to increase their interest and understanding of the natural world around them is so important. The competition also encourages unique thinking and creativity which we value greatly -- this is why we have been keen to support the WriteStuff competition over the years."

There will be a cash prize of £50 and a trophy for the winner in each category, with £25 cash prizes for second and third places. There is also a £50 cash prize and a certificate for both primary and secondary winners of the Special Educational Needs (SEND) class.
Winners will also receive a signed book and an original illustration by local artist James de la Rue, who has been commissioned to produce bespoke illustrations of the winning stories.
The winning stories and illustrations will also be displayed at the Guille-Allès Library and local schools.
Up to five highly commended prizes will also be available in each category. Each highly commended winner will receive a £10 book token and a certificate as well as their story published on the website.
All entries should be submitted directly through the website www.writestuff.gg. For further information please contact education@guernseyliteraryfestival.com or call 07781 143545. Details will also be available from the Guille-Alles Library or school libraries.