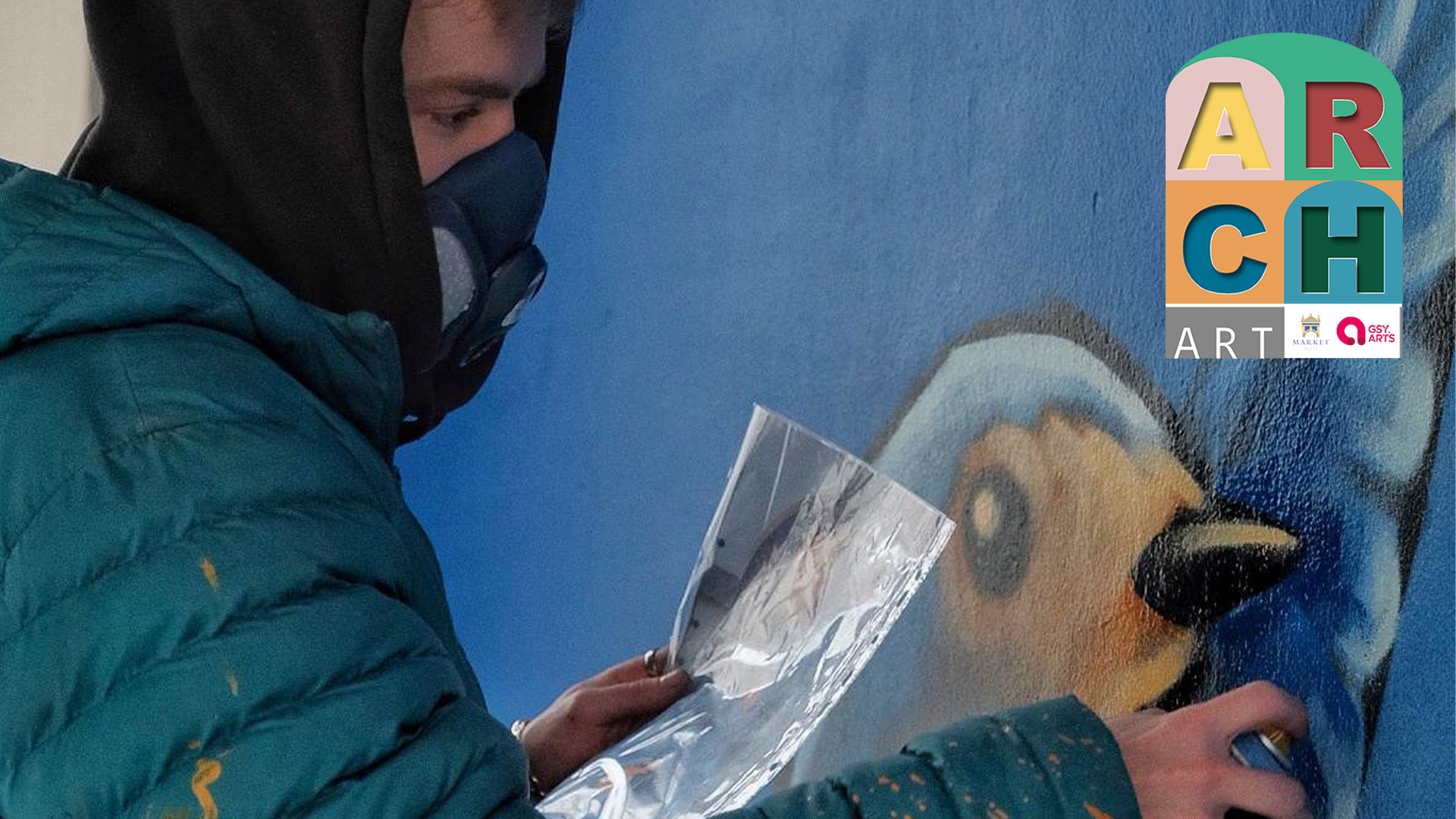 A start to the highly anticipated Arch Art Project!
Over the Summer of 2022, Guernsey Arts sought proposals from Bailiwick artists for the Arch Art Project. Having now selected four artists, Guernsey Arts and Bailiwick Estates are pleased to announce that work is now set to commence on the first Art Arch over 28th - 29th January.
"It is well established that public art supports regeneration and adds vibrancy and fun to the surrounding area. It gives a community sense of place and pride, whilst stimulating economic activity. Bailiwick Estates and Guernsey Arts are working together to develop the Arch Art project within the Market Street Arches, creating a vibrant "Public Art Gallery."
- Russ Fossey, Head of Arts Development
The initial brief requested that the proposed artwork be forward thinking. As the Market Buildings have reached their 200th year, the chosen artworks will be a symbol for today and the future, with scope to change artwork every 18 months. Art proposals were influenced by current topics including the environment, nature, health, peace, the digital world and the metaverse.
The first artist selected for the Public Art Gallery is Bjorn Martin Rettberg. Bjorn studied for a BA in Illustration with Animation, followed by an MA in Illustration & Design at The Manchester School of Art. With a distinctive graffiti art style, Bjorn's work has been featured within local bars on the island as well as on stages for the Vale Earth Fair.
"The broad concept here revolves around the idea of "the sky is the limit". Following the brief set out, this is a forward thinking piece that inspires hope and draws upon nature & the environment. If we unpack the assets, the robin is a universal symbol for growth, while an orange moon is symbolic for transformation and change - both of these elements highlight the brief, and point towards an exciting future ahead"
- Bjorn Martin Rettberg, Arch Art Artist
"We are delighted with this project and very grateful that the island's talented artists have embraced the opportunity. It was no easy decision to choose the final 4 pieces and I am extremely appreciative of Guernsey Arts' involvement. This is a new initiative for St Peter Port and one that links well with developments in the Market Place area and the Old Quarter. Whilst I don't want to give away too much information on the 3 installations to follow, I can say that all 4 will evoke discussion, inspiration and smiles, with possibly some marmite moments!"
- Sonia Taylor, Director, Bailiwick Estates
The three further artists will be revealed over the course of the coming year - be sure to check https://arts.gg/exhibitions/the-arch-art-project/ for upcoming news!