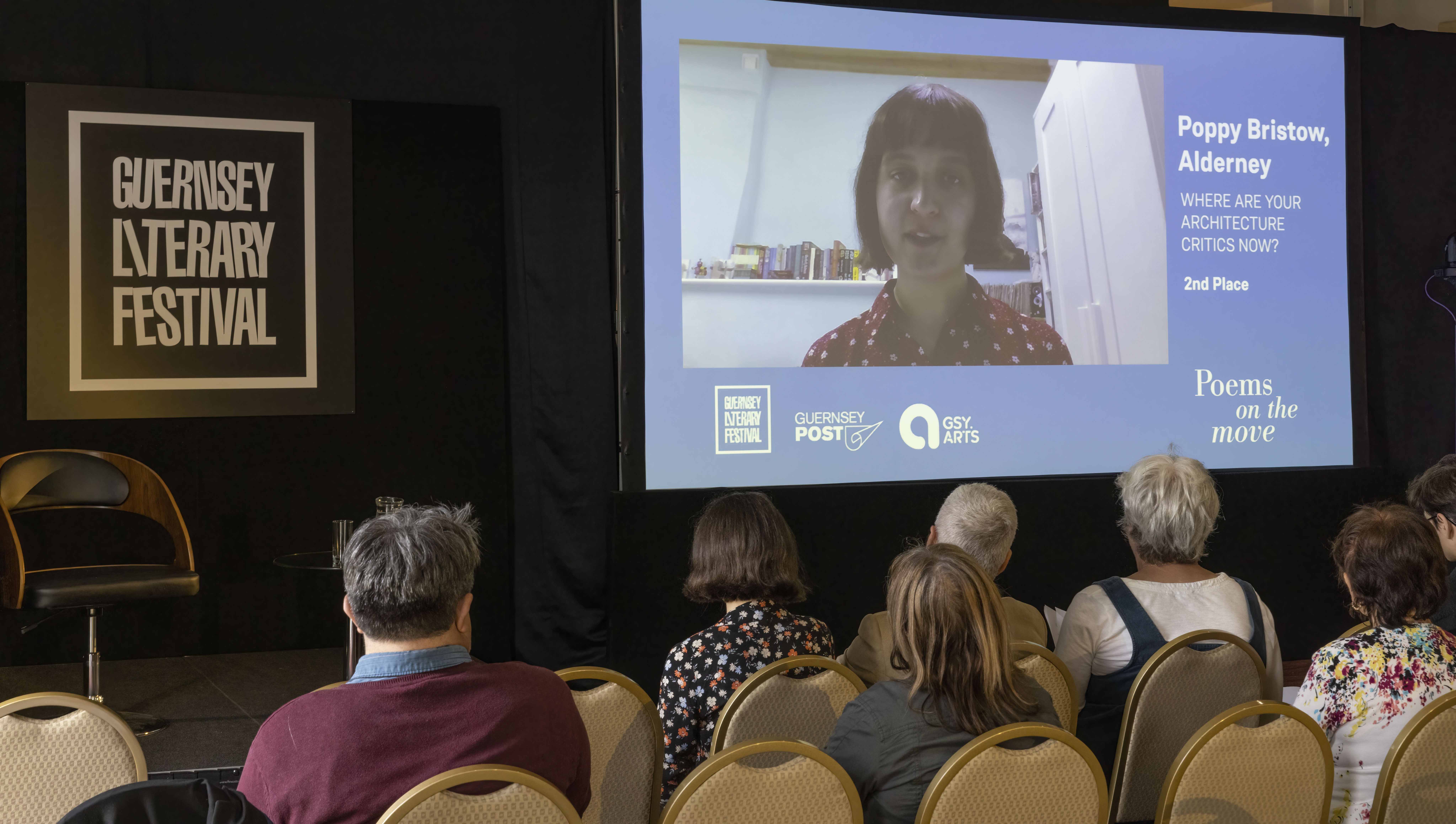 Fantastic support' for new-look Lit Fest
Fantastic support' for new-look Lit Fest
Guernsey Literary Festival director Claire Allen says that the 2021 Festival, which finished a week ago, has been a great success, with many sell-out events for local and UK and US writers and speakers.
'This year marks the 10th anniversary of the launch of the inaugural Guernsey Literary Festival and we've been blown away by the fantastic support we're received,' she says.
'As well as organising a number of events with local authors at the Guille-Allès Library and in local schools, we've enjoyed a selection of live-streamed events at Les Cotils with some incredible award winning international authors. Thanks to all our authors, sponsors, patrons, supporters, volunteers and the organising team for making this year's festival such a great success.'
The Festival, which is planned and organised by a team of volunteers, had to be cancelled in 2020 because of the Covid-19 lock down and for a time the 2021 Festival looked under threat, 'but we felt it was essential to go ahead to continue to build on the successes we've had in previous years,' says Claire Allen.
The honorary chairman of the Festival is Terry Waite, and he emphasised the importance of the arts in difficult times. 'Life is to be lived to the full and art plays a crucial role, it's not just about financial return. We need to live more in harmony with ourselves, our neighbours and our environment. Arts enable us to do that.'
This year's Festival combined a mix of free local events held at the Guille-Allès Library with five days of events with writers from outside the island who spoke to paying audiences at Les Cotils while being live-streamed to watchers in their own homes. In the end there was an 87% take-up of the available tickets for all events.
One of the cornerstones of the Festival has always been its education programme and this went ahead as well, with in person visits from local writers and video link events. Kate Gilby- Smith did five school talks, Victoria Robinson did three and Maz Evans did an event by video link.
Author Kate Gilby Smith was born in Guernsey and was back on the island to speak about her debut novel. She said, 'It's been really special taking part in the Guernsey Literary Festival. I've been so impressed by all the brilliant questions children have asked, both at the Guille-Allès  library event and during school visits. It's wonderful that such an exciting programme of events could go ahead this year. A huge thank you to the festival for having me!'
There was good feedback from audiences and the fact that there were live audiences did not go unnoticed by 'visiting' writers and speakers, many of whom had spent the majority of the last few months in their own homes.
Environment campaigner Tom Rivett-Carnac, writing on Twitter, said, 'This is the closest I've gotten to an actual room full of people in a long time. Thanks to the Guernsey Literary Festival, Claire Allen and Sasha Kazenseva-Miller [his interviewer] - this was fun!'
Best-selling writer Joanne Harris was also full of praise and hoped to be able to come in person in the future, 'Thank you Guernsey,' she wrote. 'Thanks to Adam [Bayfield, her interviewer], the organisers, the sponsors and the audience. Next time I hope I'll be more than just a disembodied head.'
Political journalist and commentator Steve Richards, who was the guest at the Business Breakfast at the OGH, said, 'It was a pleasure to speak at the festival….brilliantly organised, chaired and with some fantastic questions from a live audience that was totally engaged with the event.'
Nurse and writer Christie Watson said, 'The Guernsey Literary Festival looked after me so well. A lovely team, fascinating discussion and lively and friendly audience. I'm already looking forward to the next one.'
One of the local writers who spoke, Fergus Dunlop, said, 'Thank you to your team for bringing the Guernsey Literary Festival back! The Island is on its feet again, punching above its weight. Thank you for the great personal opportunity and the support.'
Other positive comments on Twitter have come from Francesca Simon, practical philanthropist Jacqueline Novogratz as well as local writers Mat Desforges and Gerald Hough and there has been support from other writers and speakers as well.
The Festival runs two major competitions. The Guernsey International Poetry Competition, judged by Kate Clanchy, had a record number of entries – over 2000, and The Write Stuff short story competition for Bailiwick school children, judged by Francesca Simon, Maz Evans, Huw Lewis-Jones and Joanne Harris, had a record number of local schools taking part. Awards ceremonies for both competitions were held during the Festival.
Maz Evans said, 'It was an absolute delight to play a part in this year's GLF. The standard of the children's writing blew me away and it was wonderful to be able to speak to some of them via the magic of Zoom. Congratulations to everyone who created this wonderful event - I hope that brighter times will bring me to your beautiful shores.'
All the live-streamed events are now available to re-watch on the Festival website, guernseyliteraryfestival.com, or YouTube Channel https://www.youtube.com/channel/UCNg-hjUK3EpOqhiwhmyuNKw
The dates for next year's Festival have been set at Wednesday 22nd- Sunday 28th June.
Notes to editors
The Guernsey Literary Festival is an established and well-respected literary festival which celebrates its tenth anniversary in 2021. Our aim is to offer a varied and energetic celebration of literature with something for everyone – from aspiring writers to families looking for a fun day out. 
The Festival is run by a team of volunteers and includes a full education and community programme as well as a series of workshops, an international poetry competition and a writing competition for schoolchildren in the Bailiwick of Guernsey.
The Festival is a non for profit organisation and a registered charity and is kindly sponsored by Guernsey Arts, Arts Foundation Guernsey, Investec, PraxisIFM, Butterfield, Specsavers, Appleby, Health Connections, Guernsey Post, Julius Baer, Rawlinson & Hunter, Art for Guernsey, Rothschild & Co, Dorey Financial Modelling, The International Stock Exchange, The List and Betley Whitehorne Image.